Starting a blog can be a great way to make a full-time income or create a side income that can be used to pay bills or save for tomorrow.
Blogging about finance may be an effective way of writing about something that everyone is interested in while also writing about a subject that you know a lot about.
How can you make money from a finance blog?
Sell Advertising Space
You should think of your blog like a digital billboard. Ads can be placed above the fold, along side borders or at the bottom of a given page.
It may also be possible to put text links to sponsor sites or landing pages within an article or blog post. These ads can pay each time someone clicks on them or each time that they are displayed on a page.
The best types of ads are those that are relevant to the topic at hand. For instance, you may put up a banner ad for a new finance book or for an online brokerage. When an ad relates to the topic of a blog post or the general theme of your blog, it is more likely that your visitors will click on them or take other actions that are valuable to your advertisers.
Reviewzntips is selling ads via AdClerks: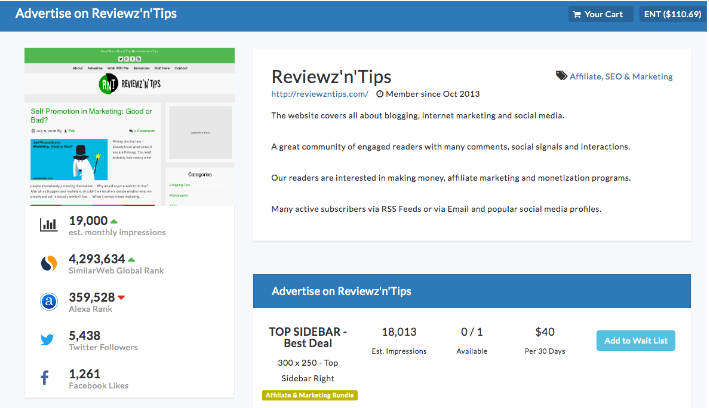 Sell Your Own Products
Another effective way to make money from a blog is to sell products. For instance, you could sell your new eBook or place affiliate links to other people's products.
Each time your link is clicked, you may be entitled to a commission or entitled to a commission when that affiliated product is actually purchased.
Amazon and eBay have their own affiliate programs, and many entrepreneurs are looking to build an affiliate network to help sell their products. Depending on the quality of your content and your traffic, you could make hundreds or thousands of dollars per year just through affiliate sales.
I'm selling freelance writing and social media marketing services:
Write or Accept Sponsored or Guest Posts
Many bloggers allow sponsored posts to be written by an advertiser and posted on their blog. In some cases, the content comes already written by the advertiser, which means that you get paid for doing nothing but posting it. However, you may be asked to write the material as well as post it on your blog.
Guest posts allow other bloggers to get in front of your audience. This may help them launch their new blog about online loans or simply get some extra exposure as part of a targeted marketing campaign. Guest posts are almost always written by another person, which means that you do nothing except publish the content.
If you are planning on posting other people's content on your blog, you should make sure that it meets your standards. While making some extra money is nice, you don't want to alienate the audience that you have worked so hard to build.
Use a Blog to Market Other Services
A blog may be the perfect tool to grow your audience and gain exposure for your other services. For instance, if you have an online webinar that you run or make yourself available for speaking engagements, a blog can show the quality of your work. It may also provide a platform to interact with readers on a more personal level.
Whether you are looking to replace a lost income or simply want to develop a passive revenue stream, a blog may how to accomplish those goals.
Even if you don't have a formal finance degree, you can write about your own experience with money and share what you have learned about responsibly managing money.
And you?
Are you making money with your blog?
Please share your experience in the comments below, thanks!